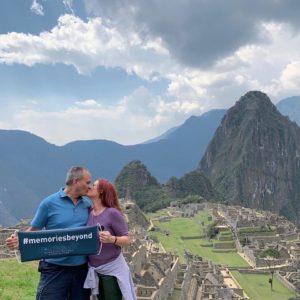 Travel memories are feelings that come to mind at unexpected moments, stirred by our senses—a taste, touch, scent, sound, or visual. The taste of ceviche triggers memories of Peru; touching fluffy sheepskin rugs conjures Scotland; the scent of jasmine awakens recollections of morning walks in Israel; the sound of Mariachi transports us to Mexico, just as clinking cowbells evoke Argentina; and the sight of sunlight glistening on water arouses thoughts of Greece, or shockingly colorful bougainvillea kindles Canary Island reminiscences. Our minds grasp these sensations and our travels are instantly recalled.
At IWorld of Travel, we specialize in travel memories. The memories we have given our travelers for more than fifty years go beyond sensory experiences. They encompass personal connections—laughter, emotion, friendship, love, and sharing. We call them MEMORIES BEYOND, a concept we created to signify memories beyond our travelers' imagination; memories that last a lifetime and continue to enrich us years after we say our goodbyes and return home. Breaking bread with locals; sharing a laugh with a tour guide; feeling the emotional tug of an important historical site, or the awe of learning something new; making friends from other parts of the world who stay in touch year round. These are memories beyond.
We hope to make memories beyond synonymous with the IWorld of Travel brand. That's why we launched the hashtag #memoriesbeyond. A hashtag is denoted with the '#' symbol and is used to identify a topic of interest, making the topic searchable and discoverable on social networks such as Facebook, Instagram and YouTube.
Our travelers memorialize their journeys with us by using #memoriesbeyond and #iworldoftravel when posting photos about their trip on social media. We also love to share when our travelers send their favorite photos to memories@iworldoftravel.com.
Now, we invite YOU to come along on our next adventure and make #memoriesbeyond with us!