"Going to Japan was a dream come true for me.
Over the years, I have sent many clients to these places
and I was thrilled to finally be able to experience
the country and its treasures for myself."
–Becky Wong, IWorld of Travel Senior Executive Destination Specialist
Bwong@iworldoftravel.com

Going to Japan was a dream come true for me. Over the years, I have sent many clients to these places and I was thrilled to finally be able to experience the country and its treasures for myself. I now have first-hand familiarity with Japanese culture and with the sights, tastes, sounds, and activities of daily life. Now I can recommend this itinerary and these experiences to travel advisors and their clients with my own personal knowledge, natural excitement, and deep conviction.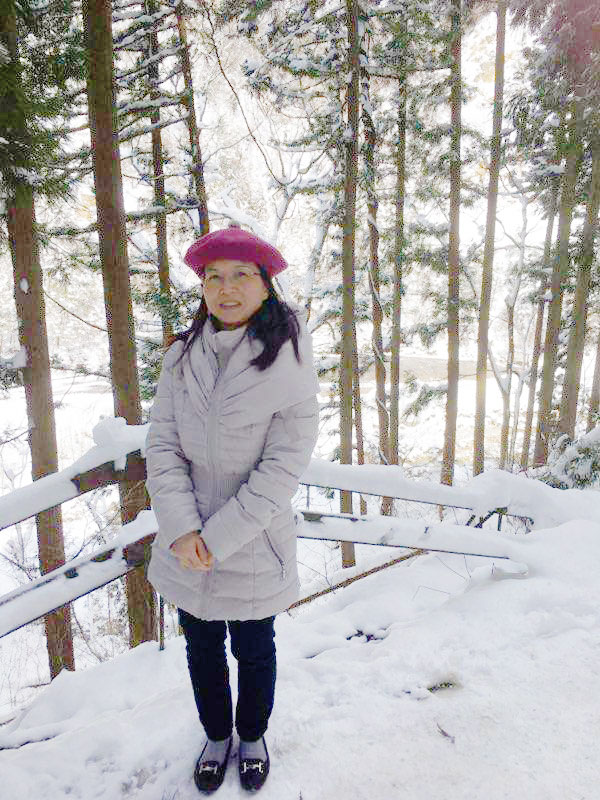 My itinerary was very well conceived by combining Japanese history, traditions, and culture with modern life and big urban metropolises like Tokyo and Kyoto with smaller cities such as Takayama and Shirakawago. Takayama has a fascinating past and has retained a traditional touch with its beautifully preserved Old Town. Shirakawago is a World Heritage site recognized for its unspoiled landscape and for its grassho style houses with their distinctive thatched roofs. I also visited Kanazawa, known for the exquisite Kenrouken Garden.
"The highlights of my trip are

#memoriesbeyond m

oments and will stay with me forever!"
It was thrilling to see the snow monkey in the wild! We had very close encounters with the monkeys – bathing in the hot springs.

The impressive Matsumoto Castle surrounded by placid waters is quite a sight!

Exploring Takayama's quaint, Edo-period old district was fascinating, especially wandering along Kamisannomachi Street lined with rich, wooden traditional merchant houses, restaurants, shops and breweries. It was here on this street, known for the Hida Beef, where I had one of the best Japanese lunches ever, grilled right on the table. It was out of this world!

I enjoyed seeing the Wada House in Shirakawago, a very unusually designed and expertly built old house.


The Kenrokuen Garden was a wonderful attraction, along with the 21st Century Art Museum in Kanazawa. At the Gold Leaf Shop, I had the unique, hands-on experience of decorating a pair of chopsticks with gold leaf – nice touch!

It was exhilarating to experience the famous bullet train in Japan – passengers are assigned a number on the floor of the platform, and a car and seat number. It was fast, efficient, and clean.

My favorite sites in Kyoto were the historic Gion area, the Kikakuji Temple (Golden Pavilion), the Arashiyama area (Bamboo forest), and the Kiyomizu Temple. All amazing!

The most interesting and tasty dining experience in Kyoto was sampling the puffer fish. This is a poisonous fish that can only be handled by a licensed chef – if it is not handled correctly, eating the fish will kill you. This fish is very expensive. We got 2 small pieces which were cooked in boiling water in front of the table.
I was happy to try all the traditional Japanese dishes along with western fusion Italian and French, and I savor the memory.