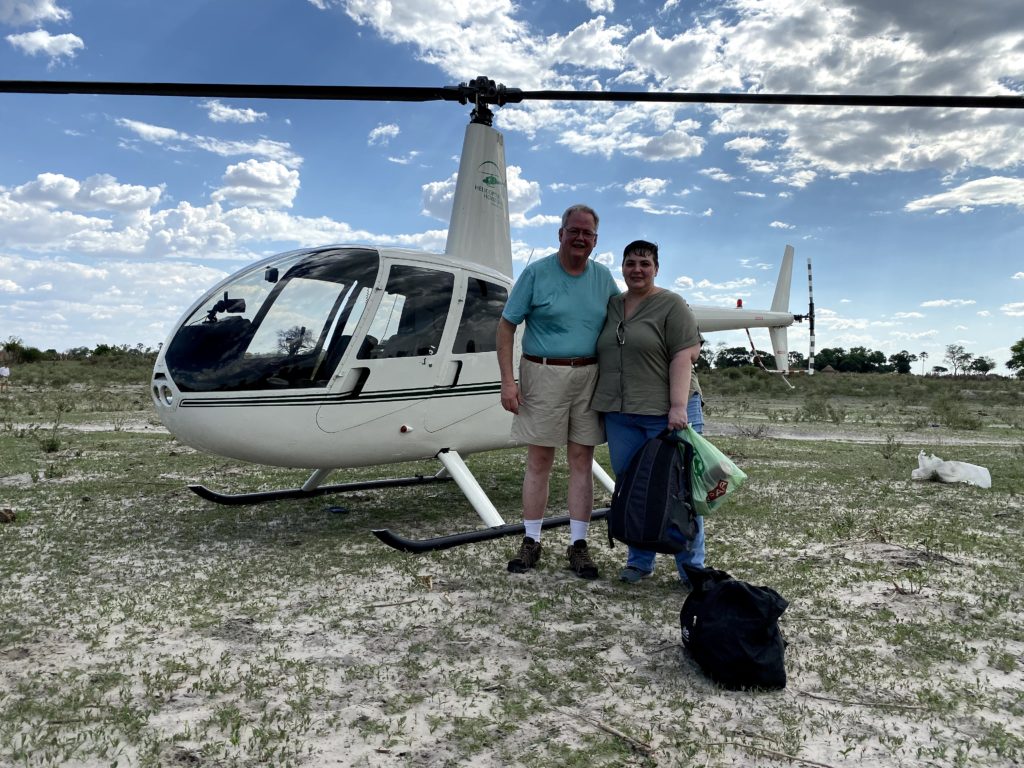 After a long flight from NY and a long layover in Johannesburg, I boarded a small plane to Maun, Botswana and finally arrived at the luxurious Maun Lodge for a highly anticipated overnight. The hotel has an excellent restaurant where I was able to try a favorite local dish known as Seswaa. Maun is a bustling frontier town on the banks of the Thamalakane River and is the gateway to the world-famous Okavango Delta
On the third day of my adventure, I was met by my tour guide and transferred to Maun Airport for a helicopter flight to the Okavango Delta. Upon arrival, our local guides took us deep into the heart of the Okavango Delta on dugout canoes known as Mekoro. The delta forms as water flows from the Angolan highlands out over the Botswanan flat Kalahari Desert sands creating a delicate, green oasis for birds & wildlife. We camped in the wild on remote islands in this amazingly dynamic environment and enjoyed bush walks and bird watching. Camping and conversing with our local guides, we learned more about their lifestyle and culture. We left by Mekoro boat back to a launch area and boarded our safari vehicle.

We spent 4 nights in the conservation areas of Moremi and Savuti with time to explore the various habitats. We spent our time on game drives watching the plentiful wildlife including wild dog, elephant, hippo, buffalo, lion & other game. Moremi Game Reserve rates as one of the leading wildlife areas of the world and we took our open 4WD vehicle into Moremi for fantastic game viewing! Grasslands, floodplains, forests, lily lagoons and winding water channels combine to form a variety of habitats that are home to extraordinary wildlife.
Moving north over the sand ridge and into the Mababe depression we arrived at the Savuti Marsh. This open grassland area attracts herds of zebra and wildebeest, in turn drawing the large lion prides for which Savuti is famous. We camped in the wild in the central Chobe National Park.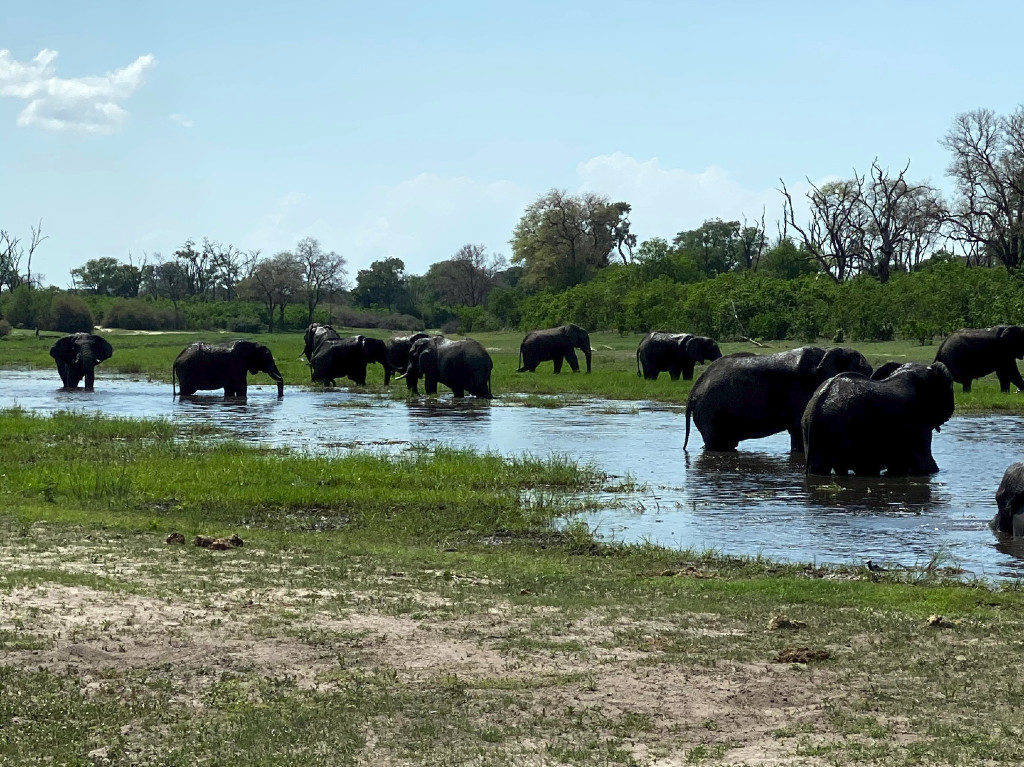 The Chobe River flows lazily along the northern boundary of the Chobe National Park attracting some of the largest elephant herds in Africa. In the early morning we searched for game on the flood plains of the Chobe river. The late afternoon game viewing "sundowner" cruise was a highlight as we saw the mighty elephant herds returning to the Chobe River to quench their thirst. We arrived at Kasane on the Chobe River and checked in to the Cresta Mowana Lodge.

On the way back to Kasane, Botwsana, I visited Pangolin Chobe Hotel, a remarkable property that caters specifically to the needs of professional photographers and partners with a specialized safari company.
 Finally, but too quickly, I transferred to Kasane Airport for the long flight back home via Johannesburg. What a trip!