Back To Destination
Hidden Gems of Europe
10 Days / 9 Nights
Luxury Small Group Departures IW-004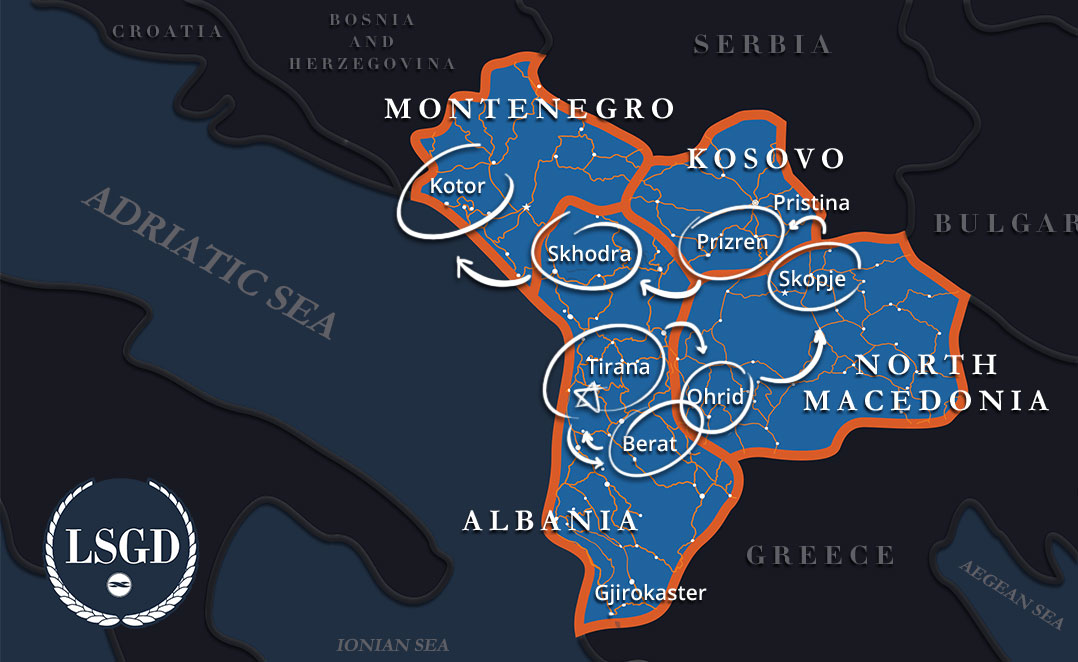 Departure Dates 2021:
Tirana | Berat | Ohrid | Skopje | Prizren | Fierze | Koman | Shkodra | Fishte | Kurja | Virpazar | Budva | Kotor | Perast | Njegusi | Cetinje
May 6 – 15
June 3 – 12
September 2 – 11
September 23 – Oct 2
What's included:
Individual arrival and departure airport transfers
Accommodation in boutique style upscale hotels as per itinerary
Service charges, tourist fees, and taxes
Breakfast daily
Meals as described in program
All transfers as per program with a modern 19 passenger Sprinter, or similar luxury vehicle
Professional tour manager throughout
Sightseeing tours as per itinerary with licensed local guides, entrance fees inlcuded
Luggage handling at hotels (one piece per person in/out)
2020-21
Expect more. Do more.
Thursday: Arrival in Tirana
Upon arrival at Tirana airport, you will be welcomed by your English-speaking driver and transferred to your hotel  to relax after the long flight or venture out on your own to explore the Albanian capital city. In the late afternoon we will gather in the lobby to meet our tour manager and fellow travelers. We will then begin our first Albanian experience—a welcome dinner in a typical Albanian restaurant to savor the tastes and secrets of this fascinating country while enjoying a folklore performance. (D)
Friday: Tirana | Berat | Tirana
Today after breakfast we drive to Berat, a picturesque, historic city built on the banks of the Osum River, known for its white Ottoman houses. We will be welcomed into a 300-year-old house to enjoy the taste of homemade sweets taken traditionally with coffee, in the company of our hosts who will tell us about life in central Albania and its history. Afterward, we take a leisurely walking tour of the old city and visit the Fortress and Onufri Museum. We will then enjoy free time in this amazing place—break for a delicious lunch in one of the restaurants or just continue to explore the many interesting sights and streets. We head back toward Tirana in the early afternoon and stop on our way to enjoy the tastes of Albanian fine wines in one of the country's best wineries. We will arrive in Tirana in the late afternoon, and your evening is free. (B)
Saturday: Tirana | Ohrid
If you are a coffee-lover, the morning will be absolutely delightful! As our adventure continues, our first stop today will be a coffee museum and shop that serves outstanding coffee prepared the traditional way. The coffee culture of the whole Balkan region is a very important part of daily life from the time of the Ottoman Empire to today. Here you will see that everything, from the furniture and music to the staff uniforms, is as it was during the communist regime. It will be both interesting and educational to find out how life looked in Albania during the communist era while sipping your Turkish-style coffee. Afterward we explore the streets of Tirana and immerse ourselves in the mix of cultures. You will recognize a great Italian flair in the Tirana boulevards as we embark on a walking tour to discover the most significant and beautiful sites. The tour concludes at the "Pazari," an open-air market where you will be free to explore at your own pace or sit down for a nice lunch in one of the local restaurants. In the early afternoon we bid farewell to Tirana and head toward the border of North Macedonia and our next destination, the mesmerizing Ohrid. The town itself is one of the oldest settlements in Europe, once considered to be the epicenter of Slavic culture. Some think that the gorgeous, deep Lake Ohrid, one of the most beautiful lakes in the world, is 3 million years old. Ohrid, the town and the lake, is one of the few places named both cultural and natural UNESCO World Heritage sites. Upon arrival we will take a short orientational tour. The rest of the day is free to explore this exquisite town on your own and sample the Macedonian cuisine in one of the many traditional restaurants, walk around historic streets, and enjoy the marvelous lake views. (B)
Sunday: Ohrid
We wake up in one of the world's most unique places and will dedicate this entire day to experiencing the culture, history, and natural treasures of the area. We begin with a boat trip on Lake Ohrid, embarking in the Bay of Bones and finishing close to the gorgeous St. Naum Monastery. Then, we visit the village of Trpjeca where we have some time to sit back and relax. We highly recommend tasting some of the local freshwater fish specialties for lunch. After our break we will return to Ohrid town to walk the ancient streets and learn the secrets held by the walls and courtyards from our expert local guide. You will be impressed by this place, filled with history and interesting stories of everyday life. (B)
Monday: Ohrid | Skopje | Prizren
In the morning we will head toward Skopje, the capital city of North Macedonia, and stop on the way to visit the amazing Painted Mosque in Tetovo. A fascinating guided tour of Skopje will reveal interesting history starting from 4,000 BC! The Kale Fortress, with tales from Neolithic times, overlooks the city which is a tasteful combination of modern and ancient. Before continuing on our way toward the Kosovan border, we will enjoy some free time in Skopje. In the afternoon we arrive in Prizren, a picturesque town that was the capital of Serbia in the 14th century and very rich in Ottoman heritage. After an orientation tour, we will have some time at leisure and gather again in the evening to enjoy dinner together at a very special place called Stone Castle. (B,D)
Tuesday: Prizren | Fierze | Koman | Shkodra
This morning is free to enjoy Prizren, the cultural center of Kosovo and the ex-Serbian capital, when the city was an important trading center and even minted its own currency. You will enjoy the lively atmosphere, marketplace, and many churches and mosques. Later on, we find our way back to Albania, stopping in Fierze to board a very special ferry that will take us across Lake Koman, nestled in a dramatic mountain landscape. Sit back and enjoy the truly unique scenery! We arrive in Koman and continue to Shkodra, one of the oldest cities in Europe, to visit the Gheg Cultural Center. After an orientational tour, we will have dinner in the evening with a folklore performance in one of the best local restaurants. (B,D)
Wednesday: Skhodra | Fishte | Kurja | Skhodra
Today we explore Skhodra—its promenade, the Rozafa Castle, and an original Venetian mask factory that still produces and supplies masks to stores in Venice, Italy. Afterward we transfer to the nearby village of Fishte for a visit to an amazing farm where we indulge in a lunch "show" representing traditional Albanian cuisine. In the afternoon we visit Kurja, a typical Ottoman city with a lively bazaar where you will see craftsmen working on their unique, handmade products. Great place to get some nice souvenirs. We will return to Skhodra in the afternoon, with time to venture out on your own. (B,L)
Thursday: Skhodra | Virpazar | Budva | Kotor
This morning we will have some free time before we say goodbye to Albania and head toward Montenegro. Our first stop will be a visit to Virpazar, an old fisherman settlement situated in the middle of the gorgeous Lake Skader National Park, and one of Montenegro's historic trading centers from medieval times. We will have a short walking tour and some free time to relax with a coffee or grab a bite from the many restaurants that offer freshwater fish specialties. Later, we will continue to Budva, a famous tourist spot in Montenegro. We will stop for a short time before proceeding to our final destination, Kotor – a fortified town on the coast, nestled below the limestone cliffs of Mount Lovcen. Enjoy the rest of the day in Kotor at your own pace. (B)
Friday: Kotor | Perast | Njegusi | Cetinje | Kotor
Today we will start early to catch a boat to a very unique man-made island with a famous church called "Our Lady of the Rocks.' Enjoy the views and scents of the Adriatic Sea, one of the most pristine seas in the world. Later we will pay a visit to Njegusi, another exceptionally scenic village inside the Lovcen National Park, on the mountain slope at 2,900 feet above sea level. This village has a population of barely 200 people, but it has become famous for its outstanding homemade traditional foods. In Njegusi we will be welcomed by a host who will offer us a taste of these delightful specialties—prosciutto-like hams and handmade cheeses. Later, we will descend the mountain to the city of Cetinje, the old royal capital of Montenegro and cradle of Montenegrin culture and history. We will learn about this remarkable city, enjoy a walking tour and a visit to King's Nikola Museum. Later on, we will return to Kotor and before ending our day we will go to Kotor Old town to visit the famous St. Tryphon Cathedral. This evening we will gather one last time and head out for an unforgettable farewell dinner to crown our tour of these fascinating 4 countries.  (B,D)
Saturday: Depart Kotor
Today you will be transferred to Podgorica International Airport (Montenegro), or Dubrovnik International Airport (Croatia) for your home bound flight. (B)
On this same day, another wonderful tour begins starting in Dubrovnik, Croatia! Join us for another week filled with #memoriesbeyond experiences in the Southernmost Croatian area, Dalmatia, and discover its islands, historic towns, traditions, cuisine, and culture.
[formidable id=6]