Back To Destination
Fascinating Egypt
8 Days/ 7 Nights
Luxury Small Group Departures IW-302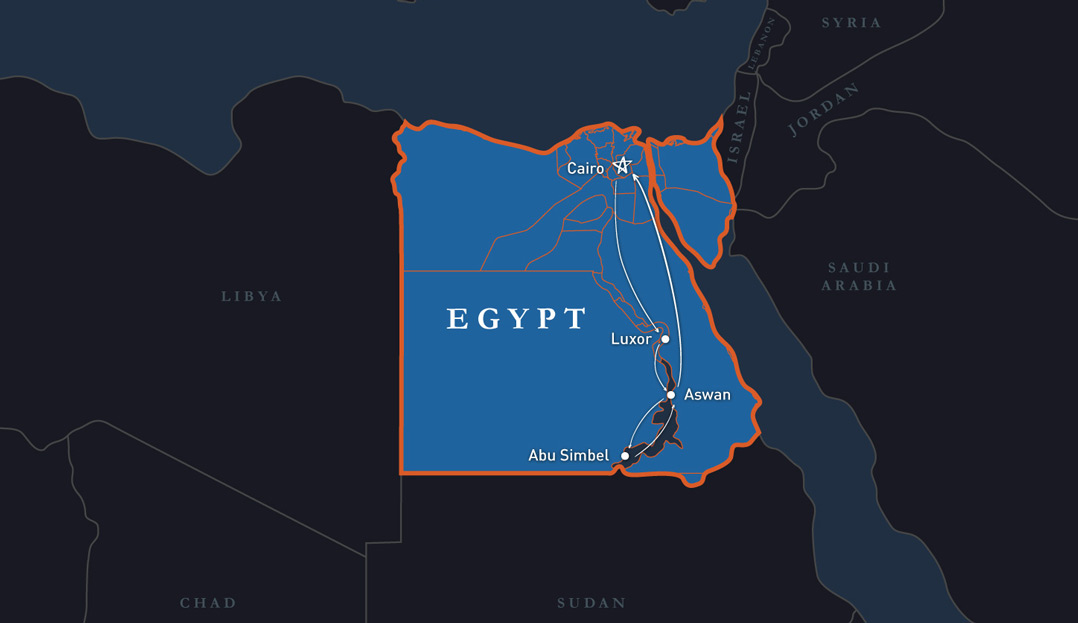 Departure Dates 2021:
Cairo | Luxor | Karnak | Edfu | Kom Ombo | Aswan | Abu Simbel
Apr 17 – 24
Sep 18 – 25
Oct 16 – 23
What's included:
Individual arrival and departure transfers 
All transfers as per program with a luxury vehicle 
Commercial local flights as per program 
Professional local tour manager throughout 
Accommodation in first-class selected hotel (5*) in Cairo, breakfast included 
4 nights Nile cruise onboard a luxury 5* vessel with full board (breakfast, lunch and dinner)
All tours, sightseeing and activities as described in the program including entrance fees 
Welcome and farewell dinners
All taxes and fees
ACCOMODATIONS
| CITY | NIGHTS | HOTELS |
| --- | --- | --- |
| Cairo | 3 | FOUR SEASONS MENA HOUSE 5* - OR SIMILAR |
| ON THE CRUISE SHIP | 4 | MOVENPICK 5* LUXURY VESSEL – OR SIMILAR |
SATURDAY: Arrive Cairo
Arrive at Cairo International Airport (CAI) and meet your English-speaking driver. Transfer to our hotel in Cairo. In the early evening we will gather in the lobby to meet our tour manager and fellow travelers. From there, we will head out to discover the magic of Egypt during a welcome dinner at a local restaurant where we will dine on some Egyptian dishes and enjoy a belly dance performance. (B, D)
SUNDAY: Explore Cairo
This morning we will have the feeling of traveling back in time while our expert tour manager tells us the mesmerizing stories of pharaohs, pyramids, mummies, and treasures while we approach Giza. Upon arrival we will hear more details and explore the Pyramids of Giza, a wonder of the ancient world that consist of 3 mighty pyramids: Khufu, Khafre and Menkaure. We will have free time for pictures and to enjoy this fascinating place at your own pace. You can even go inside one of the pyramids if you wish. Later we also visit the great Sphinx of Giza, the mystical creature with the body of a lion and head of a human, facing from West to East, as if it's protecting the pyramids. You will be enthralled by the Giza plateau and its amazing wonders! We will have lunch at a local restaurant and then visit a papyrus factory to learn about this interesting process. Afterwards, we will spend several hours visiting the Egyptian Museum to see the famous treasures of boy-King Tut, along with many other interesting objects from ancient Egyptian history. We will enjoy a panoramic drive around Cairo and return to our hotel in the late afternoon with time at leisure.  (B, L)
MONDAY: Cairo – Luxor
Today after breakfast we will head to the airport and board our 55-minute flight to Luxor. Upon arrival we will cross the west bank and pay a visit to the Valley of the Kings. You will be riveted by the beauty and story of the Temple of Hatshepsut and the colossi of Manon. After the visit, we will proceed to our 5* ship for lunch and some time at leisure to rest. In the late afternoon we will gather to visit the illuminated Temple of Luxor and stroll through the city corniche. We will return to our ship in time for a delicious dinner.  (B, L, D)
TUESDAY: Luxor – Karnak – Edfu
This morning we will tour the amazing Temples of Karnak, built over 2,000 years ago and dedicated to the Theban Triad of Amun, Mut and Khonsu. This complex located on the east bank of the Nile covers more than 100 hectares and comprises a vast mix of temples, chapels, pylons and other interesting buildings that reveal another fascinating piece of Egyptian history. We will return to our ship later to sail along the Esna Lock of the Nile River while we enjoy the beautiful scenery.  (B, L, D)
WEDNESDAY: Edfu – Kom Ombo – Aswan
We will enjoy our breakfast on board and head out to explore the city of Edfu by horse-drawn carriage. Edfu is the site of the Ptolemaic Temple of Horus and an ancient settlement, Tell Edfu. We will marvel at the sight of this city and learn its secrets while in our carriage before returning on board for lunch and to continue our sail to Kom Ombo. Upon arrival, we will spend the afternoon exploring this intriguing city, originally called Nubt, meaning the City of Gold. We will visit the beautiful Kom Ombo Temple, dedicated to the two shared Gods Sobek and Haroeris and return to our ship for dinner while we continue our sail along the Nile to Aswan. (B, L, D)
THURSDAY: Aswan – Abu Simbel – Aswan
Early this morning we will drive through the Nubian desert to the city of Abu Simbel. Here we visit the most breathtaking temples of Egypt: Nefertari and Ramses, protected by UNESCO. We will learn their history and how these temples were saved! Afterwards, we will return to our ship for lunch, and in the afternoon, we will visit some of the sites in Aswan, the Temple of Philae and the High Dam.   (B, L)
FRIDAY: Aswan – Cairo
Today we disembark our beautiful ship, transfer to the airport, and fly back to Cairo. Upon arrival we will enjoy a short drive to Memphis. Founded in 3,100 BC, Memphis is the legendary city of Menes, the king who united Upper and Lower Egypt. Here we will see the large and well-preserved statue of Ramses ll. Our next stop will be Sakkara, one of the most extensive archeological sites in Egypt, dominated by the Step Pyramid of King Zoser, one of the oldest stone structures in the world. On our way to the hotel, we will have another interesting stop, to learn how the beautiful Egyptian carpets are made in the traditional way. Tonight, we gather one last time, and we head out for an amazing farewell dinner full of surprises—the crown jewel of our fascinating Egyptian journey.  (B, L, D)
SATURDAY: Depart Egypt
Today you will be picked up from our hotel and transferred to the Cairo International Airport for your homebound flight. (B)
Or, continue the journey with us, and discover Israel!
[formidable id=6]